The special and the general

Let us once more start with a conversation. Ruth, when you say that the special always helps the general, what do you mean by that?


"Within the school it is children with special needs, together with creative school personnel, who have extorted a deepened view upon people, new pedagogical angles of approach and new types of aids. This has contributed to develop all the school systems around the world. Within medical care we also find innumerable examples on how the interest in the special also gain the general. This is particular clear now when so many people get so old. Almost everyone will sometime during their lifetime belong to the category "visually impaired", i.e. they will need glasses sooner or later. And many will during their lifetime be so disabled that they find it useful to remove the thresholds. Maybe it will turn out the same way with the knowledge of the picture communication? What has now been developed with the help of Isaac will perhaps be of invaluable use also for old people who have lost the spoken language.
Looked upon in a longer perspective it is obvious that we cannot afford to be without the knowledge of the differently abled people. Because from the worlds we do not know anything about, we can reach new knowledge that will be important to many more people.
It is also important for culture itself to have tools to prevent classifying people. This will be a gain to all, through the fact that it will change the climate of culture."

Ruth, our collaboration has very much been the matter of protecting the unique without marking people, not discerning them, not making them different. You use to say that the core of the culture is fellowship. And that non-culture is to repel, put aside.

"Culture is in fact an inspiration for social development. Everywhere where people are together they create culture. Fellowship gives something qualitative to everyone who is in it. You get experiences. You get reflections, you get knowledge and understanding. Naturallyfellowship can also mean hard and heavy moments. But even in those moments there are something qualitative.

In a non- chosen solitaries no meetings will occur. When someone has been repelled the repelled person has been negatively valued, something that will be visible also in his self-contempt. He will, in the end, look upon himself as a useless person."

Yes, it even happens that you can hear this expressed. Let us quote some of the differently able people in Lund:

"I know that I am like one of them, but I still think they are disgusting. I don't want to be together with them when we are in town."


"Imagine that I never before have danced with a real human being." (Said by a 20 year-old boy after he had been dancing with a female nurse).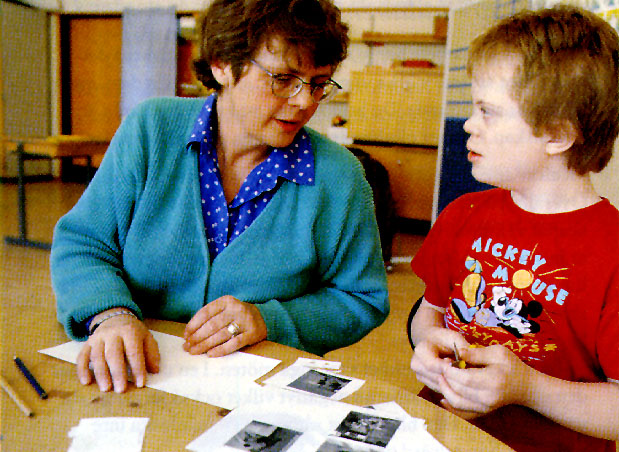 Isaac has now started school together with Tobias. The first stumbling steps have been taken in the springterm 1995. Vibe Björnfors, Tobias' teacher, intends to use Isaac, among other things, to bring Tobias closer to his dream: to be able to read!
Ruth, you have a historical perspective on your ownon how to work constructive with differently abled children.

"Yes it started in the middle of the 1950s. I then, by coincidence, happened to see differently abled children who just were sitting in big, big rooms. Around them were bad conditions. I became sleepless because of the fact that children had to sit like this when everyone else got it better in this country. I wondered why they had forgotten these children. Finally I went to the headmaster and questioned weather it could be right that some children would have it like that. "Of course not" he said. "But you have to do something about it then!"

On my behalf this led to the fact that I started to think about the pros and cons with different kinds of integration. It was then I discovered that tools were missing. Both concerning reaching knowledge for all children. And to achieve the practical integration. Tools were missing for every child to feel that he really was someone.

Little by little I got the opportunity to build, furnish, equip and lead a school concentrated upon getting all children to be active and creative. We tried at the same time to give all our comprehensive school children pertinent knowledge on different sorts of handicap. Many became fascinated by belonging to a generation who maybe will be able to facilitate the fellowship between very different children.

One of the most beautiful word combinations I know happened because of a slip of the tongue. On Friday afternoons we used to say "nice weekend" to every child we met at school. Then the children started to answer "The same to you". But once someone said"The same together".

What happens if you gather the knowledge of the differently abled? Well, there is a lot of "the same together". To our school came for example a child who always was aggressive and tried to sabotage things for the others. But he had a wonderful talent - he could draw and paint like few of us. One afternoon the boys in his class asked if they could gather all his paintings and arrange an exhibition in the middle of the school. Next morning Stellan was met by a sign that said "Exhibition by Stellan". Amazed he could look at the exhibition with his own pictures. And his friends achieved exactly what they had had in mind: by showing Stellan what he was good at, his image of himself changed and he started to join the fellowship. They created culture. The opposite- to repel, put aside, make lonely- is non-culture. A nine-year-old boy wrote: "One who are alone, isolated from other people, does not consider himself to have an obvious place but sits himself where it happens to be unoccupied." That's the way he had had it.

In a material way it has been possible to convert some of the things we have learned from the differently abled pupils. For theirs and our own sake. But we have not always brought them in on our fellowship. The external conditions have been changed, but how about the intrinsic ones? How can it be that it is almost impossible to beg someone to go to the movie with a differently abled person if you are not paying him? Don't we even have a vision of increased possibilities for fellowship?"

Bodil, you have sometimes expressed certain apprehensions?

"Yes I have, but I really do not want to acknowledge them. But this is what I have said (and this is what I sometimes think):

Now we are busy, with help from Isaac and its successor, giving people who are lacking the spoken language, the possibility to "talk" with pictures. A girl should, with help from the pictures on the next page, be able to tell the following story:


That she has started to work on a restaurant
That it is she who are baking the buns today
That this is what the chef is look like
That this is what she had for lunch
That she had bought a new lamp for her room at the group-home
That this is what her contact man is look like
That the best thing to do is swimming
That the personnel always is "making fun of itself"

Imagine the difference compared to not be able to tell anything. But still- if it doesn't exist anyone who wants to look at your pictures?


Monday on the 17th of January, 1994. Planned picture documentation with Isaac.


If Isaac reveals that the problem is not the lack of language but the fact that the surrounding does not want to be together with her? What use will then the communication aid be?

And if you only will hear "are you calling now again" when you have learned to phone withhelp from Isaac? "Have I not told you, you are not allowed to phone this often?" Has Isaac then just become a tool which reveals that no one wants to be with you?

But I do not believe that what I just have said will dominate. Mankind is better than that. A human being has something indomitably inside itself - she is actually made never to give up. Inside ourselves there is always (even if we verbally express pessimistic opinions) prohibition of pessimistic thoughts. A person who cannot swim, and who has happened to end up on deep water, will not think: "I cannot swim, it is just as well if I drowned". On the contrary, she will try anything she can, perhaps more the less able to swim she is. Maybe it works, maybe not. But it is not human to give up. It is against our construction. Yet, we sometimes get lost, as individuals, in groups, yes, even cultures sometimes get lost. Then we have to influence each other, with the picture below as well as the quotation below the picture."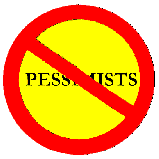 "Optimism is not of disposition an opinion about the current situation but a vital force, a force to hope where other resign themselves, a force to carry setbacks, a force that won't let the future go to the pessimism but take it in use of hope."
(Dietrich Bonhoeffer, from "Motstånd och underkastelse")
A lot of this is maybe about preserve and fear. Maybe about what you call the Great All-fear, Bodil!

"Yes, there is a non-word or rather a non-expression which I find particular bad, and that is

"what would happen if everyone did like that?!" It is a real hit below the belt that takes away the hotbed for growing human ideas and initiative, and that makes us scared and watching.

Because it is obvious that multiplication about the unique would give unwanted effects; well, it would not even be good if everyone did like Einstein or the Queen or even like Mr Smith.

But those who take down the unusual people with their "what would happen if everyone did like that", they have not thought of that. They have, on the other hand, found an elusive method to take down, and to take down the specific, the unique, the thronging multiplicity. A lot of us adults are exposed to it in the most subtle ways. But even worse is that the Great All-fear, here and everywhere, becomes one of the norm on schools and institutions. You learn that you cannot do anything that would not be OK if everyone else cannot do exactly the same thing at the same time.

I think it is good to name that phenomenon, and I call it, as you have noticed, the Great All-fear. Sometimes hobgoblins can loose their horrifying abilities simply by our giving them names. Laughs can come closer, the seriousness can decrease and so can the adrenaline. Probably the Great All-fear is nothing but a hobgoblin in your mind. It is not All-dangerously if a unique person, most of all a differently abled person, get a chance to develop the unique inside her, is it? Since she is unique many people cannot imitate her."

EXAMPLE
In Bali there exists a special form of fire-dance that ends certain ceremonies. To be able to do this dance you have to be equipped with certain physical gifts. Every new-born childis watched by an astonished audience who wonder: "will he be able to do the fire-dance? will she be able to do the swan-dances?" And you ask a lot of other positive questions that are searching for the unique within the new little human being. They are not afraid that the unique within the person could lead to the Great All-fear. They know that the unique is unique. This unique is what children on Bali can look like when they have reached school-age.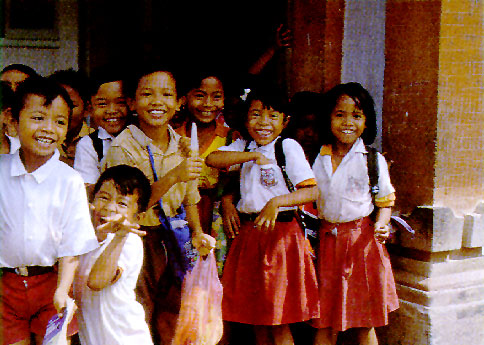 Swedish children are of course just as unique as those on Bali. One of us who also has been a child in Sweden is Tage Danielsson, who expressed the unique in every person like this:

"If I was thinking like hell,
perhaps through the whole day
of my life, and found
some sort of meaning that was true,
well, then I am not allowed to forget a truly important thing:
That this truth is valid only for me."

Tage Danielsson, Samlade dikter 1967-1967
We end our attempt to show how to recognise the Great All-fear by giving an example from the adult world.

EXAMPLE
In a group-home a man from the personnel thought that everything was so chaotic, that the personnel as well as the differently abled felt bad because of it. He wanted to change this by introducing rules and regulations concerning cleaning and food etc. He got his eyes on an elderly man who was eating with good appetite at the table. The man was not a bit overweight. But "he could be", so the personnel had to be one step in front. The possibility that other people in the group would imitate this behaviour also existed (the Great All-fear), and therefor the "one-plate-rule" was introduced.

This rule meant that no one was allowed to eat more than one plate of food during a meal. The elderly man protested strongly because no one had discussed this rule with him or anyone else before it was introduced. A supervisor was now called to explain in a pedagogical way that this was for his own good, and since he did not understand this, others had to explain this to him. He did not seem too impressed by the supervisor's argument, but started to think of different kind of strategies on how he could get around the one-plate-rule.

After the supervisor had left the building it was time to eat the first meal with the new rule. The elderly man was waiting for his turn, and then he started to ladle out a mountain of rice and on top of this he put a LOT of sausage a la stroganoff. The personnel sat quiet and just looked amazed as the stroganoff run like melted lava along the sides of the rice-berg. The man smiled and started to eat with an appetite which accompany a clean conscience. The personnel looked worried at each other and seemed to wonder weather it could be possible to ask "time out" to have a mini-personnel-conference during the meal. How should they respond to such disrespect? The man had now finished his pyramid look alike meal. He smiled towards his fellows at the table and walked slowly to his room to take a nap after the meal.

A feverish activity took now place within the personnel. Something bad had happened. The one-plate-rule had been repudiated the very first time it had been used. The person who had done it had had the impudence to commit the crime with a smile as well. Someone suggested that the one-plate-rule should be supplemented with a height-rule, but most of them realised that it would be almost impossible to control it, so they rejected it. Even different kind of volume-rules were quickly rejected, because it turned out that most people in the personnel-group had great difficulty with that kind of mathematics.

Although it really hurt a lot of them the elderly man walked victorious through this event, and the one-plate-rule never came back. But the struggle to introduce other complicated rules never seized, which meant that the personnel had to put a lot of time and work to control that the rules were followed instead of giving advice and support to the differently abled.

Ruth, together we have been discussing integrity for the differently abled. How "integrity" not shall be defended as an anonymous characteristic- that sort of defence becomes often an obstacle for the personality to develop. No, the identity which ought to be allowed to grow is the personal one. The integrity which ought to be defended is the personal one. How does it all start?

"What forms the personal childhood is the people around the little child. The younger a person is, the fewer people she has around her. How the people around her solve their every-day problems, how they show their joy and grief, will be the first knowledge of experience for the little child. It is this that will form her "I".

Then there is a generalchildhood which is formed by culture, especially via day nursery, school and possible institutions. When you form this general you have to connect it to the personal within the child. If you cannot handle this, there is a great possibility that the child will experience the school as something completely indifferent.
The individual in the original personal childhood follows then the person, not only during her school years, but also through her adult years in for example the care. Also within the care it is the specific with the individual that has to be visualised. Every similarity to the straightforwardness in the picture above must therefor be avoided.

What happens to a person who has to experience that his personality is uninteresting, that he is exchangeable? He does not care about his surrounding and he starts to see it as exchangeable. One of the most important consequences of this, a consequence we all see today, is violence. If you think that people around you are exchangeable it does not matter how many people who are hurt or killed.

Hazardous knives are carried more often
"The youngsters who carry them are scared"
Both the personal and the general can get a bigger impact on differently abled persons than on others. They have inner rooms which are more difficult to reach and harder to influence. At the same time institutions and schools have a tendency to reward external behaviour and the general instead of the individual.In fact it is extraordinary that the collective takes control of the power as soon as you do not assent to the individual in an active way. Many of the group-homes I have seen are for examplenot homes, it is just a living. Welfare personnel know very well what happens to a person who is not seen. Let me represent some quotations on how they have answered me on the questions "what happens to a person who is not seen? What happens to a person who is seen?.

It is difficult to know if they are talking about themselves or the differently abled when they are answering the questions:
"Gets dumb, withdraws herself, disappears:"
"Not to be anything for someone is the worst thing of all."
"You would not be worth anything. You would give up, go alone."
"It will not be a happy person, she will withdraw and be passive."
"It is a terrible thing not to be seen. Speaking in a figurative way the person will disappear. The result can be violence or suicide."
"Your self-confidence will be wiped out. How would I know who I am?"
"You step aside, no one cares about you, you can be alive without living."
"He shrinks and disappears. If you do not get anything from the out-side you will loose touch-a tied ball."
"Depressed, unhappy, ill, indifferent."
"Loose self-confidence, she is not affected, has not a friend. She will be aggressive, depressed, resigned."
"She will be sick."
"A human being who is seen gets filled with energy."
"You will grow if you are seen. It is hard to develop yourself within different areas if you are invisible. You do not exist then."
"It depends on individuality, how you are able to look at yourself, maybe you do not always have to be seen. But you can be destructive, inside and outside, by being invisible,"

But Ruth, what shall we do then?

"Our most important and personal tools are our eyes, voice, gestures. A human being gets her self-image first and foremost from the reflections from the mirror which consists of other people's eyes, voice and gestures.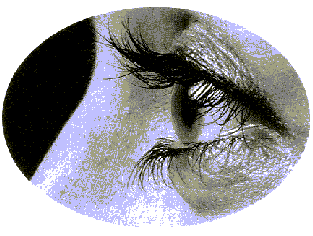 The reflected picture you get from looking into the eyes of another person, is influenced due to this other person. We are all changing the pictures of ourselves. More in the way we look at, listen to and talk to each other, than what we actually say.
You have to use the channels that are available. You can animate another person. You can also steal her self-image.I believe you have to work a lot with self-images and goals. They are both individual. Many of the young, who today are not feeling well, would be saved if someone helped them to find judicious goals they could canalise their energy on.
Let us follow Kalle, a differently abled child! When Kalle begins at day nursery it could be difficult for him to be one of the other children or one together with them. If the difficulties for Kalle will be so big that they also will be a problem to the personnel, there is a big chance someone in the personnel starts to look at Kalle as different. To be looked at as different is something completely different than to be looked at as unique and exceptional. Maybe others in the personnel start to look at Kalle as different as well. And the word different does not have to be spoken in front of the children, they understand that the adults look at Kalle in a certain way anyhow. They can then made up criteria on their own on how Kalle is different. In our primitive need of simplifying and classifying we can commit crude encroachment on children by labeling them. If Kalle is denied to be unique and is classified as different, his self-image will be distorted. He will have no possibility to build up a positive self-image.
There is a risk he will be

aggressive
destructive
suspicious
apathetic

rather than have

confidence
a positive mind
and act in a positive way

Even his goals will then be mainly negative.

There are investigations that show that the self-image of children in kindergarten-age predicts their future school-achievements more than their IQ does. Their self-image is constantly confirmed by other people's opinions, and finally their whole personality will be moulded into a self-fulfilling prophecy. It is the child's total experience-situation that creates their self-image. The pattern can be broken only by bringing in new people or situations.
If Kalle is a creative person it might happen that he has a positive image of himself, an inner room where he can go when the outside is too tough. The better Kalle can handle the outer room , the lesser time he has to spend in the inner one. I know some of our country's most famous artists. They have told me that they, during their schooldays where looked at as different. They felt wrong, but they could handle the situation by having an inner room they could go to whenever they wanted to. A room to rest in, a room to get strength from, a room to build up positive goals in. Their experiences, that gained no value in the room outside, neither by others nor by themselves, could in the inner room grow to something that led further.
The early violation of Kalle and his right to be unique means that he as a child and later as an adult has to handle a completely fragile self-conscience. He seldom shows his original feelings of
helplessness
dependence
depudiation
He has went through a physical change that has result in a pattern of
self control
anger towards opponents
independence
Kalle can be a person who will be possessed by power and the need of being in the centre of actions. He will probably punish himself during the rest of his life for being wrong, wrong, wrong.
It is a special, indirect form of expulsion, not to make sure that people with special needs have access to such technological aids (mechanical, optical, electronically etc.) that can increase their possibility to communicate and to make them a part of the mutual fellowship. Such prejudices extort a situation where the handicap takes an unnecessary big space. The goal has to turn it into a tolerable side-effect."
The key-words and the key-thoughts of the chapter

To be looked at as unique and exceptional is something completely different than to be looked at as different and as an outsider.

The special will sooner or later favour the general.


A human being is dominated by her self-image and her goal. They are both coloured by their surroundings.


Self-image is more crucial than IQ for future success in school-work.


The general childhood at day nursery and in school must try to connect to the personal. Otherwise it will all be indifferent.


The Great All-fear is maybe not so dangerous after all. You cannot multiply the unique.


No human being is exchangeable. When people experience themselves or their surroundings as exchangeable, the culture will be dangerous.


It is the personal integrity, not the anonymous one, that shall be protected.


It is an indirect form of expulsion not to make sure a person gets the aids she needs.


There will be a lot of "the same together" if you take care of the differently abled people's abilities and wishes.
Next chapter: Liberating technology , or back to Table of Contents.